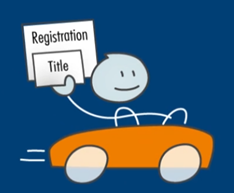 Going to the RMV is overrated; let us complete your transaction!
in News
Dick Insurance Agency is excited to announce a new functionality that can complete our client's registry transactions at our Office in just 30 minutes!
Yes, you read that right! Dick Insurance Agency has implemented an Electronic Vehicle Registration (EVR) system in our office. This system gives our Agency ability to complete different vehicle registration transactions for both personal and commercial registrations. Normally our clients would have to go to the registry themselves or have our agency go for them for a small fee. Lately, our clients have been experiencing a wait period as long as 5-10 days just for a completed registration transaction, metal plates and a new printed registration. With the operation of the EVR system in our office, our clients are now able to walk into Dick Insurance Agency and walk out 30 minutes later with a completed transaction and a printed registration. Going to the registry is no longer needed, come see us!
Woah Slow Down; What is an Electronic Vehicle Registration (EVR) System?
Let's take a step back and explain what this is exactly. EVR is an electronic system that was created by the Mass RMV. This system allows RMV-approved users to process registration transactions and Title applications electronically through a direct link to the RMV. For a long time Dick Insurance Agency has been working towards becoming an approved user and this past month, it has finally happened. Our agency has officially been approved! With this approval, we immediately started implementing it for our clients. The agency has completed many transactions in the convenience of our own office right on Main Street in Tewksbury and we are ready to complete so much more!
That sounds awesome! But what are some of the different transactions Dick Insurance Agency can complete for me at their office?
We're glad you asked! We have listed below the different registration transactions that Dick Insurance Agency can process for you. Click the links to get further detailed information about the different transactions and learn which transaction type best fits your need.
How does this help the RMV?
Let's face it, going to the RMV is not the most exciting thing to do on a typical weekday. Customers might spend an entire morning or afternoon at the registry. Customers might start with waiting in line outside. Then move to waiting in line inside. Then possibly waiting even longer for their actual transaction to be processed. This structure type was expected before the COVID – 19 Pandemic. Just like businesses all over the country, Mass RMV's are making the proper adjustments to their business structures that will better serve and safely meet the needs of their customers. Recently, RMV's have created strict no walk-in policies that require all customers to book appointments. These appointments can even take up to 14 days to let customers get into the registry. Unfortunately, these necessary precautions have been causing delays in the processing of certain registration transactions for all customers.
With the implementation of the EVR System, Car Dealerships and Insurance Agencies all over Massachusetts have been able to take customers away from the RMV's and speed up transaction processes for all. To sum up, the EVR System has taken most of the demand for the RMV and spread it out to other authorized users that is relieving stress for the RMV and their customers.
So, let's help the registry out, come down to Dick Insurance Agency to get your registry transaction processed and completed today!