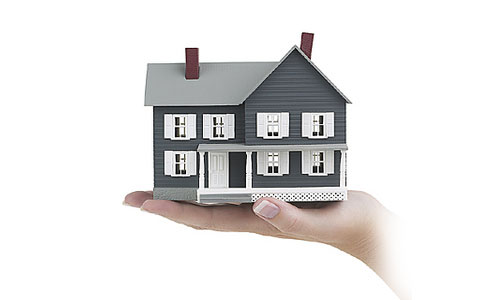 Ordinance or Law Coverage: What is it and how do I get it?
in News
7News Article – Hank Investigates: Building Code Coverage After a Disaster.
It is normal for many homeowners to be unaware of the type of insurance coverage that is placed on their homes, but Dick Insurance Agency wants to help all our clients understand what their coverage does to protect their homes. Are you properly covered?
What is Ordinance or Law Coverage and Why do I Need it?
Ordinance or Law Coverage is coverage that covers for the cost to rebuild a home, as well as the cost to upgrade a home, so that it meets the most up-to-date building codes and regulations after a covered loss.
Homeowners add Ordinance or Law Coverage to their homeowner's policy to protect from having to pay out of pocket expense for mandatory upgrades required to rebuild your home after a loss occurred from a covered peril. Below are two scenarios where Ordinance or Law Coverage could help you!
Scenario 1: 70% of your home was damaged during a house fire. The remainder 30% of your home is undamaged, but it was then determined that the entire home must be demolished and rebuilt. Without Ordinance or Law Coverage, the undamaged 30% of your home would not be paid for by your insurance. In this unique scenario, Ordinance or Law Coverage covers the cost to rebuild the 30% of the undamaged home plus the removal of debris that would be left by the undamaged portion of the home.
Scenario 2: Your home was destroyed in a house fire. It was a 100% loss, but the property was not up to date on building code regulations. A standard replacement cost policy will not cover the discrepancy in cost between the old feature and the required upgraded feature. Without Ordinance or Law Coverage, your standard policy will pay for the old feature, but you will be finding yourself having to pay out of pocket the difference between the new feature and the old feature. In this type of scenario, Ordinance or Law Coverage will cover the cost to replace features with the required up to date features.
How do I get Ordinance or Law Coverage?
All our Insurance Carriers provide Ordinance or Law Coverage. It can be added to the policy by a separate endorsement. Ordinance or Law Coverage can be an additional cost, but is well worth the coverage. To find out if you already have Ordinance or Law coverage or have further questions regarding this and other coverages, reach out to our office and we would be glad to review your homeowner's insurance policy!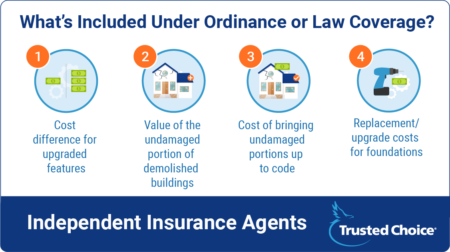 Article is referenced from our Licensed Agents with supporting material from Independent Insurance Agents